Access to GP Practices Survey Report, Bracknell Forest
This survey was completed as GP Services, particularly access to and ability to make an appointment at a convenient time and in a timely manner, remains the topic Healthwatch Bracknell Forest receives the most feedback on.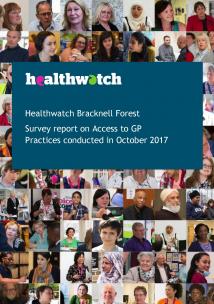 A survey was carried out over a 10 day period from 17th October 2017. 176 Sueveys were completed and the following GP surgeries were mentioned: Binfield Surgery, Boundary House Surgery, Crown Wood Medical Centre, Easthampstead Surgery, Evergreen Practice, Forest Health Group, Gainsborough Practice, Great Hollands Practice, Green Meadows Surgery, Heath Hill Surgery, Ringmead Medical Practice, Waterfield Practice. As a result of this survey and the mainlt negative experiences recorded, in June 2017, Healthwatch Bracknell Forest took part, over 2 days, in the development of a training course for BACCG for reception and administration staff in customer service –providing the patient's perspective.