Pride Month June 2021
26/05/2021
"Pride is about communities coming together in celebration, protest, unity and solidarity" - Stonewall
Throughout June we are celebrating Pride month. The purpose of Pride Month is to recognise the influence LGBT+ people have had across the world and celebrate achievements.
The LGBT+ community have made significant contributions to society, but there have been times where the community has been persecuted and discriminated against, rather than celebrated for their achievements. We want to shine a light on those achievements as representation and visibility matters.
This June we will be demonstrating how far the LGBT+ community has come, but also how far it has yet to go as full equality has not yet been reached.
Covid-19 and LGBT+ Communities
These are unprecedented times. We are all doing our best to stay safe and keep our mental & physical health in check and protect our wellbeing.
Sadly, the LGBT+ Community is disproportionately affected by the current pandemic, LGBT Foundation outlined the following:
LGBT people, in particular older LGBT people, are more likely to be socially isolated & may lack contact or support.

Some Trans and Non-Binary people have had their HRT suspended & surgeries or appointments cancelled due to emergency measures.

LGBT people are more likely to experience domestic abuse, which has risen since social isolation measures were introduced. This might include being quarantined with LGBT- phobic families & lack of access to discreet support.

LGBT people are more likely to have poor mental health & issues with substance misuse. Many of these struggles may be worsened by having normal routines disrupted and lack of access to support.
LGBT+ and Mental Health
It is important to reach out if you are suffering with a Mental Health problem. Mental health problems such as depression or self-harm can affect any of us, but they're more common among people who are lesbian, gay, bisexual and trans (LGBT).
This may be linked to LGBT people's experience of discrimination, homophobia or transphobia, bullying, social isolation, or rejection because of their sexuality. Other things, such as their age, religion, where they live, and their ethnicity can add extra complications to an already difficult situation.
Talking with a therapist who's trained to work with LGBT+ people may help. If you're struggling to cope right now, contact Samaritans by visiting their website or call 116 123 (open 24 hours, every day) for support.
The NHS have information available specifically for the LGBT+ Community, you can find this information here.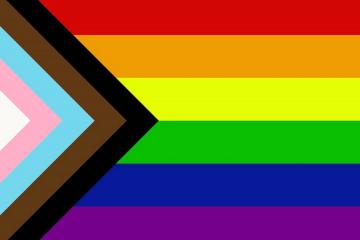 The Rainbow flag
Many people will be able to identify the rainbow flag and what it represents. The original rainbow flag was designed by Gilbert Baker in 1978 to represent the diversity of the LGBT+ community. Each of the colours represent things that are important for living well:
Red = Life Orange = Healing Yellow = Sunlight Green = Nature Indigo = Harmony Violet = Spirit
In 2018 the Pride Flag was redesigned by Daniel Quasar. The five-coloured chevron was added to put greater emphasis on the need for inclusion and progression. The black and brown represent LGBT+ communities of Colour and the pink, blue and white represent the trans community. The shape of this section is like an arrow representing moving forward. The Pride Flag was redesigned to be more inclusive.
Influential LGBT+ people from history
This month we will be celebrating various influential LGBT+ people from history such as Maya Angelou, who embraced the LGBT+ community and on the fight for LGBT+ equality said, "I am aghast and appalled at any people who decide that another group should not have their rights. We are all each other's people."
Head over to our social media channels on Twitter, Facebook and Instagram to learn more about the LGBT+ community and celebrate their achievements past and present.
Recent
11/06/2021
This week is Diabetes Awareness week, and Diabetes UK is encouraging those that have been affected by diabetes to share their stories using Hashtag #DiabetesStories to their social media profiles. The aim of this is to increase awareness amongst communities on how Diabetes can affect a person's day...
10/06/2021
We asked Bracknell Forest residents to tell us W hat M atters M ost to them when it comes to health and social care services . The What Matters Most survey ran from March to May 2021 and 155 people shared their views and experiences with us. A big thank you to everyone who participated. This report...